Where to Park in Beroun
How to Get There
Getting Around
There are several paid car parks for passengers cars. We recommend car park next to the train station, which is fenced and offers a bargain all day rate.
The walk to the Hus square takes approximately 10 minutes from here. The Parking house U Černého Koně near the square offers indoor parking.
Boškův Statek car park is not far from the town centre and just next to the aquapark and the ice-skating arena.
Unfortunately, there is no official parking place for buses. For bus parking either contact the bus station or use a small parking place for buses at the right side of Boškův Statek, just by ice-skating arena wall.
There are temporary car parks set up during the Pottery Markets. More information can be found
HERE
.
The price list of parking can be found
HERE
.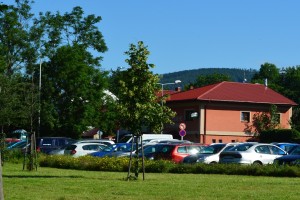 Electric Cars Chargers
How to Get There
Getting Around
Secure Bicycle Parking in Beroun
How to Get There
Getting Around
Na kole
There are several metal bike-boxes for safe parking of bicycles. The boxes can be found by the pedestrian bridge in Závodí, in Talichova or Slapská street, etc...
In front of the Beroun train station building, there is a new bike-tower for safe and convenient parking of bicycles, with total capacity of 118 bicycles.
An instructional video follows (min 7:30)
The Local Bus System
Getting Around
Since 13 December 2020 the local buses are part of PID (Prague Integrated Transport)
The tickets can be bought from the driver (cash and card) or via a smartphone app PID Lítačka. For regular rides Lítačka card is cost-effective. The card can be issued at
www.pidlitacka.cz
or at Beroun train station cash desk.
Children under the age of 6 (accompanied by a person10 y.o. and older), and seniors over 70 y.o. (only ID needed) travel for free.
FOR MORE INFORMATION AND TIMETABLES VISIT
PID
WEBSITE.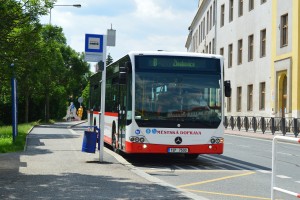 Shared e-bikes
Getting Around
Sports Equipment Rental
Na kole
There are 100 e-bikes at 10 stations in Beroun, other can be found in Králův Dvůr, Hýskov and Tetín.
Available bikes can be found
HERE
.
HOW IT WORKS:
- using a smartphone - Get the nextbike app, register via smartphone and enjoy bikes all around the world. Your account is activated through card verification. Up to 4 bikes can be rentet on one account. Open your app, choose "Rent a bike" and scan bike QR code. The bike opens automatically and you can enjoy the ride.
- without a smartphone - register and activate your account at
www.nextbikeczech.com
To rent a bike call the customer sevice and they will unlock the bike for you. To return the bike, just return the bike to the station and pul down the locking lever.
RENTAL PRICES:
Thanks to Tipsport Foundation the first 15 mins are free. máte prvních 15 minut jízdy zdarma. Then you pay 30 CZK per 30 minutes, or 300 CZK per day. There are monthly and yearly tariffs as well. Monthly tariff costs 390 CZK/month, yearly tariff 1900 CZ/year.
First 30 minutes free for every ride / after that standard city rate for the monthly and yearly tariffs.
CUSTOMER SERVICE:
For additional questions call the customer centre of Nextbike Czech Republic 581 652 047 (9:00 – 17:00).
THE STATIONS LOCATION:
Rehabilitační nemocnice Beroun
autobusové a vlakové nádraží
Talichova (nad Gymnáziem J. Barranda)
Štulovna (u objektu Verona)
Na Příkopě (za Pražskou bránou)
Jungmannova (u Městské hory)
Plzeňská (u obchodní zóny)
Mládeže (U křižovatky s ul. Jaselská)
Karla Čapka (naproti koupališti)
Drašarova (zatím čeká na připojení k elektrické síti)
Hýskov
Králův Dvůr
Tetín
More information can be found on
www.nextbikeczech.com
.