By bike
How to Get There
By Bike
Follow the Vltava river against its flow to Lahovice. From Lahovice, change your direction to the Berounka river. The bike trail number 3 leads form Černošice tu Zadní Třebaň. In Zadní Třebaň join the Czech Kings Bike Trail (Po stopách českých králů), which will take you to the other bank of the Berounka river. Follow this trail via Karlštejn and Srbsko to Beroun.
Secure Bicycle Parking in Beroun
How to Get There
Getting Around
By Bike
There are several metal bike-boxes for safe parking of bicycles. The boxes can be found by the pedestrian bridge in Závodí, in Talichova or Slapská street, etc...
In front of the Beroun train station building, there is a new bike-tower for safe and convenient parking of bicycles, with total capacity of 118 bicycles.
An instructional video follows (min 7:30)
Shared e-bikes
Getting Around
Sports Equipment Rental
By Bike
There are 100 e-bikes at 10 stations in Beroun, other can be found in Králův Dvůr, Hýskov and Tetín.
Available bikes can be found
HERE
.
HOW IT WORKS:
- using a smartphone - Get the nextbike app, register via smartphone and enjoy bikes all around the world. Your account is activated through card verification. Up to 4 bikes can be rentet on one account. Open your app, choose "Rent a bike" and scan bike QR code. The bike opens automatically and you can enjoy the ride.
- without a smartphone - register and activate your account at
www.nextbikeczech.com
To rent a bike call the customer sevice and they will unlock the bike for you. To return the bike, just return the bike to the station and pul down the locking lever.
RENTAL PRICES:
Thanks to Tipsport Foundation the first 15 mins are free. máte prvních 15 minut jízdy zdarma. Then you pay 30 CZK per 30 minutes, or 300 CZK per day. There are monthly and yearly tariffs as well. Monthly tariff costs 390 CZK/month, yearly tariff 1900 CZ/year.
First 30 minutes free for every ride / after that standard city rate for the monthly and yearly tariffs.
CUSTOMER SERVICE:
For additional questions call the customer centre of Nextbike Czech Republic 581 652 047 (9:00 – 17:00).
THE STATIONS LOCATION:
Rehabilitační nemocnice Beroun
autobusové a vlakové nádraží
Talichova (nad Gymnáziem J. Barranda)
Štulovna (u objektu Verona)
Na Příkopě (za Pražskou bránou)
Jungmannova (u Městské hory)
Plzeňská (u obchodní zóny)
Mládeže (U křižovatky s ul. Jaselská)
Karla Čapka (naproti koupališti)
Drašarova (zatím čeká na připojení k elektrické síti)
Hýskov
Králův Dvůr
Tetín
More information can be found on
www.nextbikeczech.com
.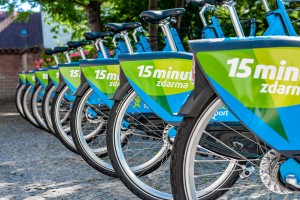 Retro Music Bar U Madly
Beroun
Gastronomy
Music Clubs
Regular oldies disco parties with live Dj' s at weekends. Oldies hits from 80s - 90s to millenium.
The bar is open at week days too. You can enjoy a glass of excellent wine from Vajbar winery (Rakvice - Zaječí), try our great coctails, the wide sort of alcohollic drinks or a Hausbrandt coffee. Or what about a draught Pillsen 12 and Kozel ?
The stone and brick interiors form a perfect background for relaxing after a hard day.
There is a all-year-round open roofed garden. The bar is air-conditioned.
We sugguest to make an reservation before your visit during weekends. You can contact us via FB, Instagram or our website.
https://www.barumadly.cz/
Address: Na Ostrově 3/15, Beroun
Phone: (+420) 728 163 133
ZanziBar Beroun
Beroun
Gastronomy
Music Clubs